Have you ever wondered what a day in the life of a long-distance driver might be like? Let us introduce you to Alain, the fictitious representative of all the REUNIR network's "Grand Tourism" coach drivers! Discover his job, his days, the organization of his trips and the regulations that govern his activity.
Hello Alain !
The driver's job
Alain is a Grand Tourism coach driver and is solicited within the framework of occasional transport (tourism, event, business). Alain takes part when a customer has booked a bus with drivers for the displacement of a group in France or abroad.
Alain has been working as a coach driver for over 20 years. He chose this profession because he loves the road, travelling, he is kind and he loves human relationship. He has the impression of being on vacation all year long thanks to the different destinations he travels to. It is a job that allows him to meet people, to talk, to share and that gives him the opportunity to discover multiple landscapes.
The typical day of a Grand Tourisme coach driver
There is no such thing as a typical day, no two days are alike, there is never a routine and that is what makes the job so attractive. Alain is never bored, for him it's an adventure every day.
In occasional transportation, nothing is really the same whether it is the destination, the type of service or the type of clientele (children, adults, sportsmen, congressmen…).
Alain's trips can be linked to adapted stays, linguistic stays, city visits, summer camps, congresses, sports events and many other services…
Driving regulation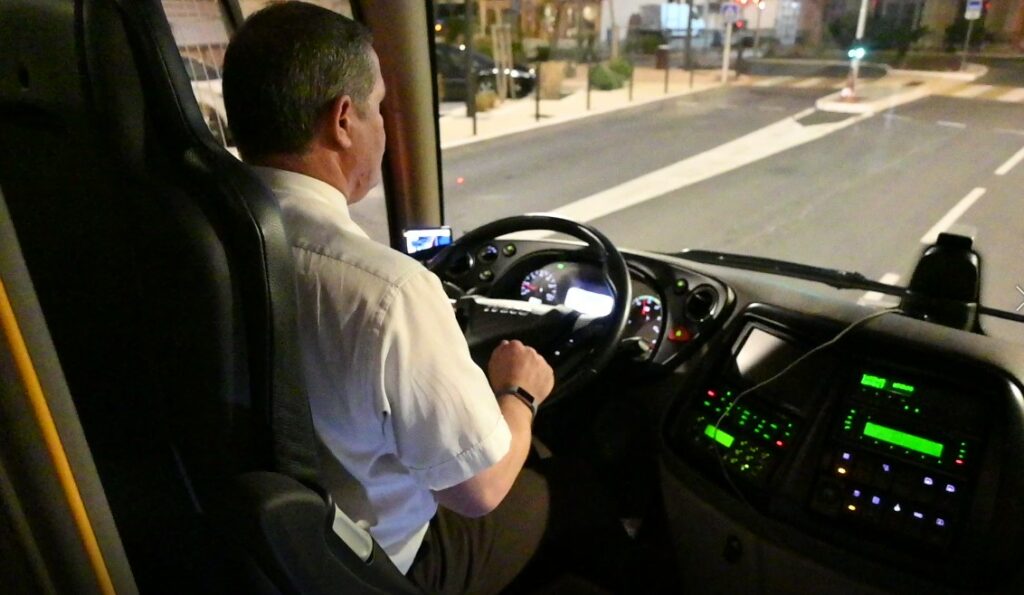 There are different laws to regulate the driving of coaches and to ensure the safety of passengers. Alain and his company must respect the applicable regulations on the road transport of travellers.
Driving time
Alain must respect a maximum continuous driving time. It must not exceed 4h30 during the day and 4h00 at night. In the case that these programmed driving times exceed the authorized continuous driving time, a 45-minute stop must be respected and possibly split into two periods. A first one of 15 minutes then a second one of 30 minutes.
As for the daily driving time, Alain must also respect a maximum of 9 hours. Twice a week, this driving time can be increased to a maximum of 10 hours. Our driver explains that he can drive up to 750 kilometers in one day, depending on the type of road he is driving on. Beyond that, it is necessary to provide a second driver.
Rest time
After driving for several hours, Alain must also take the time to rest. To drive safely, you have to stop regularly. During a trip, Alain's daily continuous rest time is 11 consecutive hours. The duration of the rest time can be 9 hours twice a week per driver.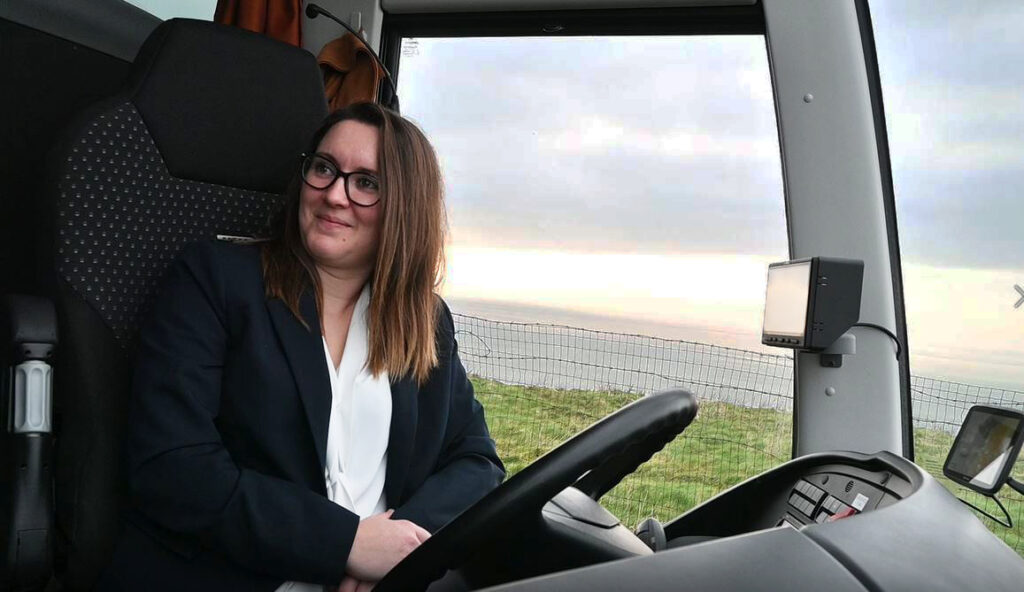 Alain must also take into account the amplitude of his working time. The amplitude of a driver's working day is the period between the beginning and the end of his working day. That is to say, from the beginning to the end of the day's work. This amplitude can reach 12 hours in total for a single driver. It can exceptionally be extended to 14 hours under very specific regulatory conditions and only twice per 6-day period and per driver. Beyond 14 hours and up to 18 hours, it is necessary to provide a second driver.
At the weekly level, rest is applicable after 6 consecutive days of work in France and abroad. The weekly rest period must be equal to 45 consecutive hours. The obligation to take a 45-hour rest period must be met at least once every two weeks.
So! Are you interested? The members of the RÉUNIR network are recruiting. Maybe you are the next Alain!