SAYBUS has been the sole transport provider for Club Evasion, Ok Vacances and Vacancia for almost 20 years, transporting their 4,000 holidaymakers and 900 supervisors from their place of residence to their holiday destination in France and Europe.
As the clientele is made up of people with intellectual disabilities, the human dimension is essential here. These people would not be able to go on holiday if SAYBUS was not there to provide transport solutions to France and Europe.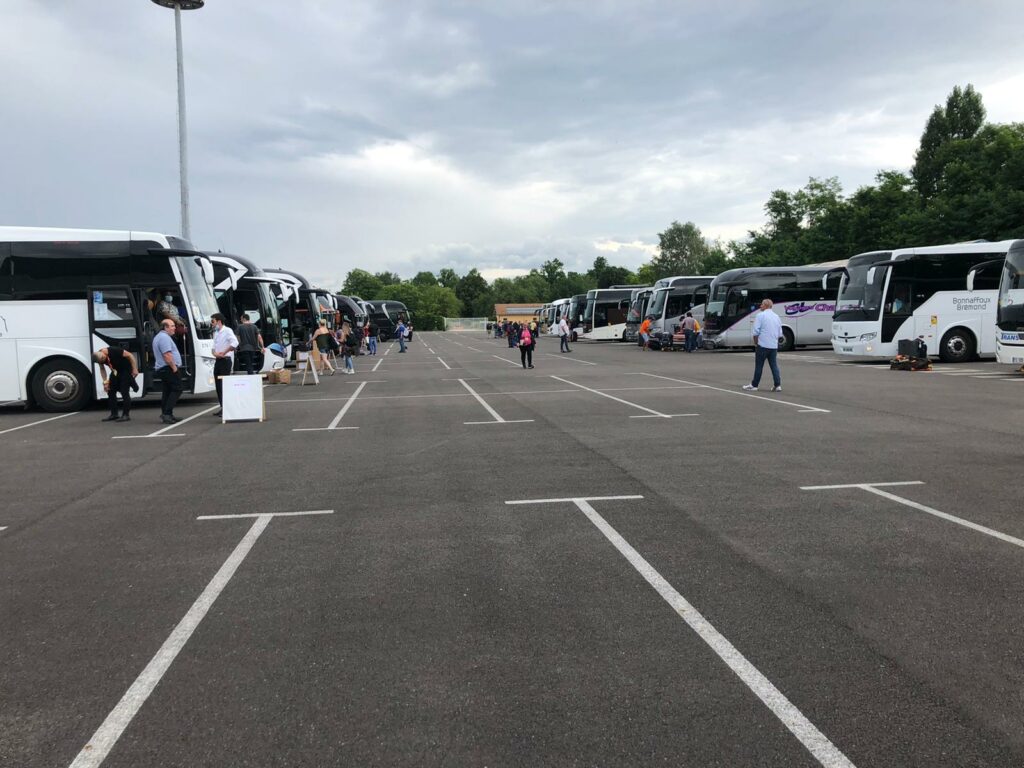 The transport project: a national event
The first step is to transport holidaymakers from their place of residence to a collection point in Villefranche sur Saône or Blois. Once at the platform, the passengers get off the coaches and enjoy a stopover during which they can eat and rest. Luggage is unloaded and sorted for departure. Passengers are then grouped according to their destination and directed to the coaches that will take them to their holiday destination, which is the second stage.
This is a large-scale operation which represents, in Villefranche in particular, 2800 holidaymakers and more than 500 supervisors passing through in the space of 4 hours.
In addition, groups are transported on tourist excursions throughout their stay, and groups staying abroad have a vehicle at their disposal on site.
A total of 1,100 vehicles were mobilised in August for national transfers and excursions.
Les missions et engagements de SAYBUS
During transport operations like this one, SAYBUS' mission is to accompany its clients from the definition of their project to the field follow-up on D-day.
SAYBUS is committed to provide a human and tailor-made support to each of its customers. This requires an excellent knowledge of the business and the customers.
To carry out all the missions entrusted to us, SAYBUS has made passenger safety and customer satisfaction its priority. The network's vehicles are of high quality and the brand is constantly investing in new rolling stock so that the buses are always more adapted and more comfortable.
The drivers are courteous, friendly and experienced to ensure that the journey is unforgettable for SAYBUS customers and their passengers.
The added value of SAYBUS
First of all, as a single point of contact for organising all holidaymakers' journeys, Saybus coordinates and manages all transport-related issues for its customers: 1100 vehicles, 1 single point of contact, 1 invoice.
Saybus' strength in this project is to listen to the customer, to adapt to his needs and make the operation a success.
It is also the values shared with all the operating sites and all the members of the network: human and social values and operational excellence. And all these teams share the same desire to satisfy customers and passengers.
These large-scale operations could not be successful without the Réunir network and its members.
"Today, everything was fluid and organised: the routing of luggage, people, stops, the movement of people, the timing too. I think this is one of the best platforms of the last 10 years. – Brahim Galloul, Director of Club Evasion".