Saybus presented its latest project at the IFTM TOP Resa trade fair, stand no. 1-N54: the "Saybooking" platform. For the occasion, a brand new video was produced, celebrating the launch of this innovative digital tool.
The digitalisation of the coach
The profession was waiting for it: Réunir has done it! While those involved in group travel had to be patient in order to book a coach online in complete confidence and at the right price, Saybus, the tourism subsidiary of the REUNIR network, has developed a 100% secure booking portal with B2B access for travel professionals, to ensure that they are well connected to the 130 coach operators in the REUNIR network.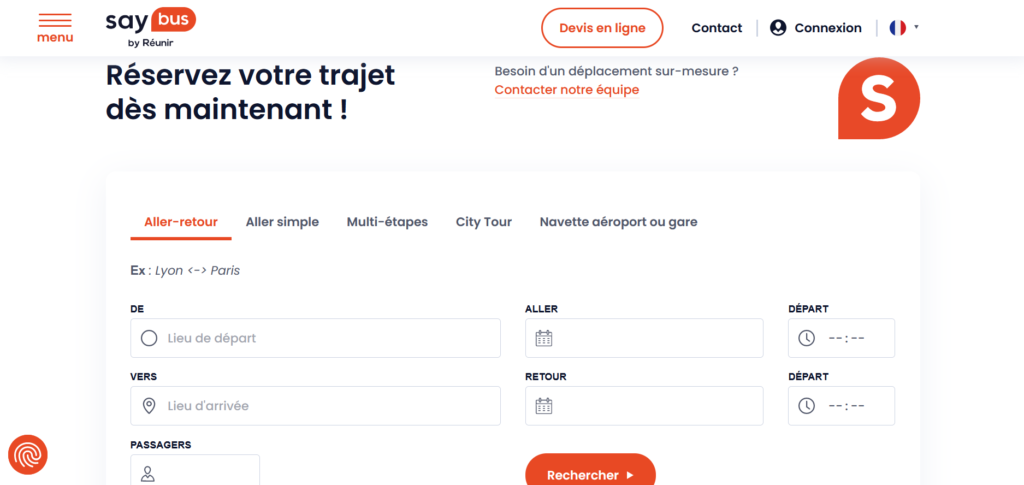 "The aim was to reconnect the coach operators of the REUNIR network to the entire tourism industry and to offer the entire profession a single B2B portal so that coach bookings could be automated in the same way as an airline or hotel. We therefore worked for several weeks on developing an algorithm with our operational team. We are slowly approaching GDS technology! This new platform also aims to eliminate intermediaries, when this is not useful, and to recreate direct relations between professionals in the travel world", says Alexandre DELVALLEZ, Saybus' General Manager.
With the help of an interactive map, it is now very intuitive to find the nearest coach operator according to the origin-destination, obtain an immediate fare and make a reservation instantly. Saybus remains in offline support for large-scale operations on the national territory and beyond by federating and coordinating the technical and human means of the REUNIR network for these markets or events.
Just go here to book your coach or ask for a quote.